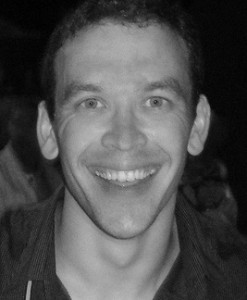 Hello and a very warm welcome to you! I'm Tony Seymour, the author of 'The Mermaid in the Gherkin Jar', which is a new children's book on Amazon Kindle.
I grew up in Bolton in the North West of England. For those of you who still don't know Bolton so well, it's the hometown of Peter Kay, Vernon Kay and Amir Khan. The famous sports brand, Reebok, was founded here too – all in all, a pretty impressive place.
I have written a number of stories over the years. It may interest you to know that 'The Mermaid in the Gherkin Jar' started life as one of a collection of five short stories.
The book is of particular significance to me as it draws on my own experiences at an important period in my life.
I was diagnosed with mild cerebral palsy at the age of 2. My parents were told that my cerebral palsy had been caused at birth when my brain was starved of oxygen during labour. This resulted in a form of cerebral palsy, which causes the muscles in my legs to tighten. The likely outcome was that I would struggle to walk unaided.
My parents were naturally devastated to hear this, but they were determined to get me on my feet. It was a slow and difficult journey, but thanks to two major operations, some dogged willpower and oodles of physiotherapy, I managed to accomplish my goal in the end. Hurray!
Since then, I've gone on to achieve many other things such as, qualifying as a solicitor and performing stand up at the Manchester Comedy Store, before writing this book.
Don't get me wrong, I still get frustrated with my disability at times. It has got me into a few scrapes over the years. There was the occasion when I became stuck on a farmer's fence. This was amusing if a little painful as the fence happened to be electrified! I think I've had quite a good relationship with my disability. It's partly responsible for making me the resiliently determined (some might say stubborn!) person I am today.
Cerebral palsy gave me the inspiration to write 'The Mermaid in the Gherkin Jar'. However, I did not just want to write a new children's book about disability. Rather, it was my intention to write a children's story that had all the wonder and adventure that I enjoyed reading about as a child whilst delivering a simple positive message about cerebral palsy and disability in general.
Unfortunately, children's books on disability are still few and far between, let alone children's books on cerebral palsy. Yet the condition is more common than you might imagine.
Anyway, that's quite enough from me. I can hear Christopher yawning and Azalea, flicking her tail with impatience. They want to get on with the story! If you would like to know a bit more about the book, take a look at this page or read a sample.
Yes, alright Azalea! I'm coming…