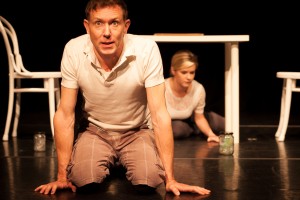 Back in September 2015, a physical theatre adaptation of The Mermaid in the Gherkin Jar by Northern Rose debuted at the Lowry Theatre, Salford.
Due to the success of the first shows, there were two further shows in November 2015.
In September 2014, physical theatre company Northern Rose won the Flow Salford 'Snippets' competition at the Lowry Theatre with their stage adaptation of 'The Mermaid in the Gherkin Jar'. It was a huge achievement for everybody involved and a great thrill for the first-time author, Tony Seymour.
You can read Tony's blogs about the journey from page to stage.
Northern Rose are a dance/theatre company based in Bolton. Visit their website at www.northernrose.org.uk.